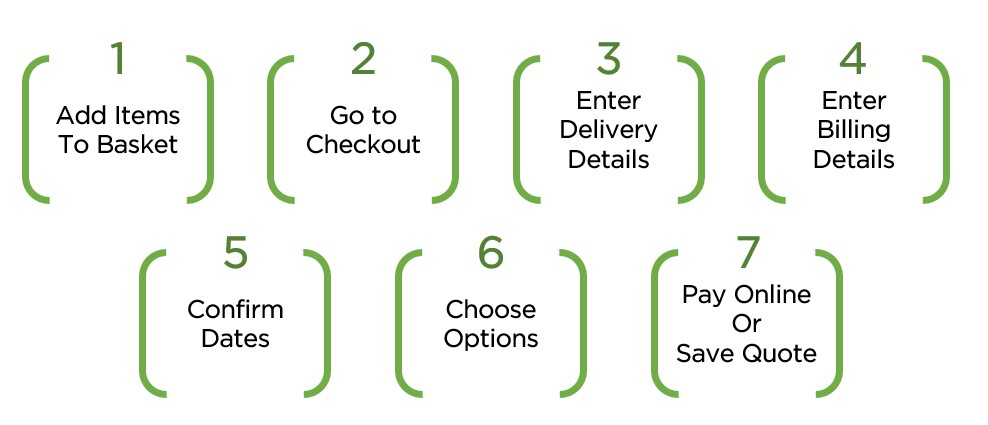 Our online system allows you to build your quote in real-time, checking the availability of our stock as you go. All our products are priced for a standard three-day hire period, with extended hire charges shown for longer periods.
Here's how it works:
Add Your Items: Browse our wide range of exhibition accessories, furniture, kitchen equipment, outdoor items, crockery, cutlery, glassware, and linen. Add the items you need to your basket.
Checkout: Once you've selected all the items you need, proceed to the checkout. Here, you'll need to provide your delivery address and the dates you require for delivery and collection.
Place your Order or Get a Quote: After entering your details, you can choose to complete your order by entering your payment information or opt to receive an indicative quote via email.
Please note that our stock and logistic systems are live, meaning we cannot hold or guarantee stock until payment is made.
Do you need assistance?
If you have any bespoke requirements or need assistance with your order, don't hesitate to reach out to us. Our dedicated team is available to help you via phone or our live chat facility. We understand that every event is unique, and we're committed to providing tailored solutions to meet your specific needs. Whether you have questions about our products, need advice on the best equipment for your event, or have specific delivery requirements, we're just a call or chat message away.
In addition to our online quotation service, we also offer a range of other event hire services, including real-time stock checking, live vehicle tracking, a large order deposit scheme, a minor damage waiver scheme, transparent pricing, and a cleaning service.
We serve a variety of event types and sectors, including exhibitions, festivals, conferences, weddings, temporary offices, garden parties, team building events, Christmas parties, mobile bars, street parties, beer festivals, temporary kitchens, funerals, and wakes.
Whether you're an event organiser, party planner, wedding planner, TV and film production company, venue manager, exhibition organiser, conference planner, or part of the public sector such as schools, hospitals, universities, and councils, we're here to help with your event hire needs.