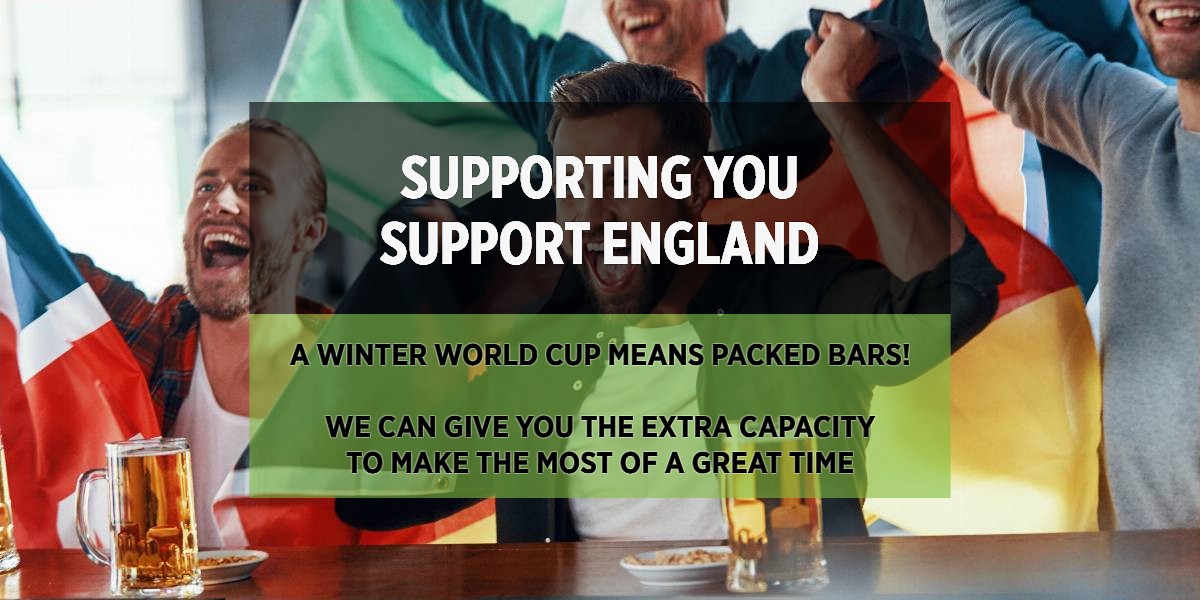 We know that hosting fanzones for big sports events such as the Qatar 2022 edition of the FIFA World Cup can cause tricky situations for venue managers. It can leave pub and club managers with an urgent need to source additional furniture hire, catering equipment or even crockery and glassware to ensure that there is enough capacity for an increase in guests and customers. At Expo Hire we work with venue managers throughout the United Kingdom to offer short and long term hire solutions.
What event hire is going to be needed for World Cup Fanzones?
FIFA World Cup tournaments are normally held in the summer, with outdoor fanzones benefitting from the warmth and longer evenings that comes with that season. This year however is different as the World Cup is being held in November and December which means that This year fans however will be celebrating unlike any other preceding World Cup party. This means that anyone hosting a fanzone or world cup party for Qatar 2022 will have to look at slightly different equipment to help ensure fans can watch in comfort.
Evening kick offs in late November will mean that anyone watching outside is going to need to be protected from the elements. This means that outdooor patio heaters for hire are going to be very much in demand. At Expo Hire we have a large stock of gas patio heaters for hire which can help heat and keep warm large outdoor spaces, ensuring that people at your venue can still sit outside in comfort even in November.
How can we help venue managers with outdoor furniture hire for fanzones?
Not all venue managers are blessed with storage space to hold all their outdoor furniture requirements. Sometimes, it's necessary for a pub or bar manager to outsource furniture hire to cover an event and this is where we can help.
When space is at a premium, our aluminium tables and chairs for hire are a great solution. These tables and chairs are specifically designed to be used outside, and offer a comfortable but durable solution to any outside furniture needs. They are suitable for both small and larger outdoor areas and are at a comfortable height not only to rest drinks on but to eat snacks and bar food too.
For a more comfortable solutoin. we recommend our rattan furniture. This furniture rental option is great for creating a more upscale seating area outside that can still deal with the elements. They work well with our patio heaters and low tables to create a relaxed arrangement in front of your projector screen or TV.
Pay just 25% deposit when booking large outdoor hire orders
At Expo Hire we've got lots of experience of dealing with events at the larger end of the spectrum. We know that they take months of planning, and sometimes budgetary constraints can prevent early ordering. If your hire charge is over £500, you can now book your hire equipment with just a 25% deposit, paying the remainder up to 28 days prior to delivery. Full details are available in our terms and conditions.
How does delivery work?
Working out delivery costs is easy with Expo Hire; simply use our carriage calculator to find which of our branches is near to you. Tap your postcode in and it will confirm not only whether we cover that postcode or not, but also which of our 11 branches is closest to you and the cost for delivery from that branch, as well as the list of possible extra charges.
Once you have filled your basket and confirmed your delivery dates and postcode in the checkout, we will show you an itemised cost for delivery so you know exactly what you're paying for before you place your order.
Want to know when your delivery is coming? You can track your driver using our real time maps on the day of delivery and collection. Simply enter your postcode and order number into our order tracking page and find out when our driver will be with you. You can also use the link we send you by automated text.