Product Description
This Y piece is a great bit of kit if you are using multiple LPG appliances or LPG bottles.
It can be used either to connect two pieces of equipment to one gas bottle, or in conjunction with Pigtails (not supplied) it can connect one piece of equipment to two LPG bottles.
Hire LPG Equipment with confidence from Expo Hire
At Expo Hire UK, we stock, supply and hire LPG equipment for events and exhibitions to all major venues across the country. All of our equipment is supplied with a hose and regulator, enabling you to connect them directly to the standard bayonet fitting on your LPG gas cylinder. If you are not comfortable connecting the gas appliance, please consult a certified gas engineer as our delivery team will be unable to connect or set up any equipment for you.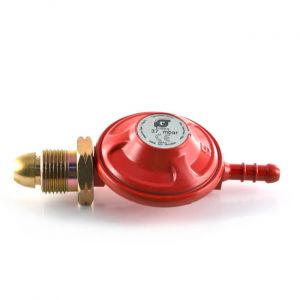 When ordering from Expo Hire, you can be sure you'll receive high-quality items that are in good condition. We ensure this by performing a thorough inspection and testing prior to each delivery, along with regular testing and certification from a Gas Safe engineer (evidence of this can be provided upon request, once your order has been confirmed). So, look no further than Expo Hire UK.
How delivery of LPG Equipment hire works
Working out delivery costs is easy with Expo Hire; simply use our carriage calculator to find which of our branches is near to you. Tap your postcode in and it will confirm not only whether we cover that postcode or not, but also which of our 11 branches is closest to you and the cost for delivery from that branch, as well as the list of possible extra charges.
Once you have filled your basket and confirmed your delivery dates and postcode in the checkout, we will show you an itemised cost for delivery so you know exactly what you're paying for before you place your order.
Want to know when your delivery is coming? You can track your driver using our real time maps on the day of delivery and collection. Simply enter your postcode and order number into our order tracking page and find out when our driver will be with you. You can also use the link we send you by automated text.
Technical
| | |
| --- | --- |
| Manifold | Male POL x Female Pol x Female Pol |
| Rating | |
FAQs
What is the price including VAT?

This item is subject to 20% VAT and therefore you will pay £3.60 each for a standard 3 day hire at checkout.

As primarily a business-to-business supplier we advertise our prices ex-VAT as most businesses will be able to reclaim the VAT amount.
Do you offer discounts for if the item is hired for less than 3 Days?

No. We recommend a minimum hire period of 3 days to provide enough time for set-up and break-down of your event, and to make sure that problems such as traffic or adverse weather conditions do not impact on your event. If you want to hire for a shorter period than this then we cannot offer a discount.
Do you offer discounts for Long Term Hire?

Yes, after the standard hire perion of 3 Days you will be charged £0.60 per extra day up to day 7, £0.45 per extra day up to day 28 and £0.30 per extra day after that.

| Days Hire | Cost (ex-VAT) |
| --- | --- |
| 1 | £3.00 |
| 2 | £3.00 |
| 3 | £3.00 |
| 5 | £4.20 |
| 7 | £5.40 |
| 14 | £8.55 |
| 21 | £11.70 |
| 35 | £16.95 |
How much security deposit do you charge?

Nothing! Unlike most of our competitors, rather than charging a large deposit, we provide a FREE 'minor deposit waiver' scheme to cover minor damage and loss. Excessive or negligent damage and loss will be invoiced at 10 times the standard hire price of the relevant items. Please read our terms and conditions for full details.
How much do you charge for delivery?

There is a minimum charge of £20.00 for a distance up to 10 miles each way.

After that we charge £1.00 per mile each way and an additional £20.00 for each journey on a weekend or bank holiday.

We calculate the distance using driving directions from our local base to your event postcode, so it is important that you provide the correct delivery address at checkout.

You can use our Carriage Calculator to get a full quote.
Can I choose a specified Time Slot?

We make deliveries anytime between 8am and 8pm, however we can offer early (8am - 1pm) or late (12 noon - 6pm) slots for an additional cost calculated at checkout.

We can not guarantee more specific times unless you pay for a dedicated driver. This is individually priced on request and are subject to availability.
Can I collect from you warehouse rather than pay for delivery?

No. To ensure that your products arrive safely and correctly we offer a delivery and collection service only.
Do you have a showroom where I can view the products before ordering?

No. As we are an online-only you can view all of our products on our website. To keep our prices as low as posssible our warehouses are not open to the public.
Gas Safety
LPG Gas Bottles are supplied separately to products. The price paid is for the hire of the bottle, rather than for the consumption of the gas inside it. Gas Bottles are filled before being supplied however we are not responsible for refilling them should you run out of gas.
All of our LPG items are regularly serviced by Gas Safe Engineers - certificates are available on request.
Please note that our drivers are not allowed to connect LPG products to gas bottles for you. If you are unsure on how to connect products to gas bottles, we recommend utilising the services of a Gas Safe engineer.
A 30mm wrench is required to connect LPG products to gas bottles, which can be hired separately.
Customer Reviews
★★★★★
K T, Northwich - June 2022